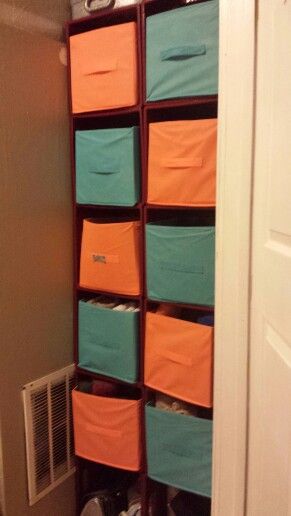 What You'll Need:
1.) Milk crates (I used 12) 
2.) Zip ties
3.) Spray Paint
4.) Decorative boxes
5.) Drill and screws (optional)
Steps:
1.    First, my kids and I went to local corner stores and gathered some milk crates for free. They usually give them away.
2.    Then, we Zip tied the crates together in sets of four for easy disassembly in case we want to take them down later.
3.    Spray them with
 the color of your choice AFTER you zip tie them. This way you aren't wasting paint on areas you won't see. 
4.    Then, we stack them on top of
one another, and my husband 
drilled two screws in each section for extra security. 
5.    Finally, I bought the decorative boxes at dollar tree for $1 each and organized my towels, sheets, and other bathroom items in them.